Welcome to the Free Talk Live bulletin board system!


This board is closed to new users and new posts. Thank you to all our great mods and users over the years.

Details here

.

185859

Posts in

9829

Topics by

1371 Members

Latest Member:

cjt26
Show Posts
This section allows you to view all posts made by this member. Note that you can only see posts made in areas you currently have access to.
Messages - LordMarius
106
« on: December 23, 2008, 02:07:23 PM »
Just.
Don't.
Want to.
Get.
FAT!

I'm trying to RAD some gut, and get back under 200. I got 20 lbs to go. I'm 6'2" and I am pushing the limits of my 36" x 34" 501's.

Get.
Off.
The.
Couch.
Now.
And.
Again.
I know it's hard for you Americans, but those long things attached to your ass are in fact made for walking
107
« on: December 22, 2008, 05:40:27 PM »
I'm about to toss the the finest of Norwegian cusisine; a Pizza grandiosa, in the oven.
108
« on: December 19, 2008, 09:26:22 AM »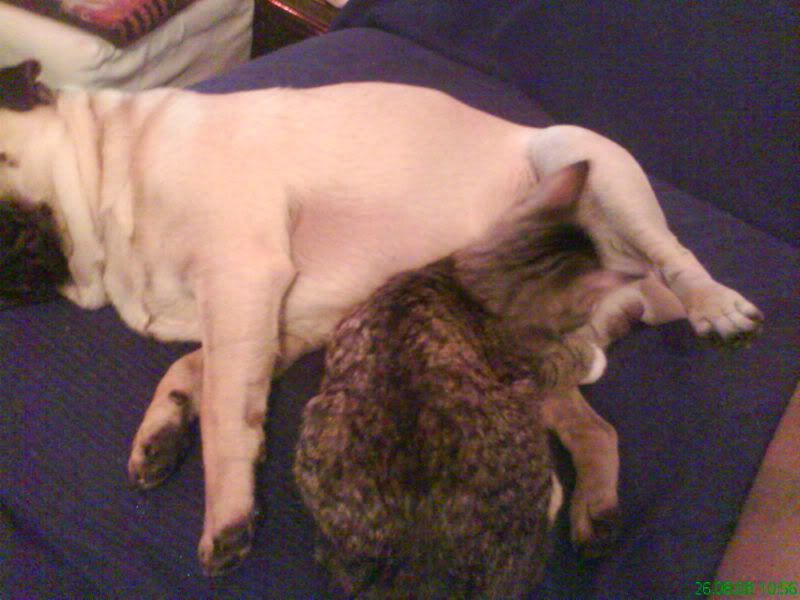 Here's kitteh giving the pug a blowjob. Isn't gay sex between animals the most beauiful thing in the world?
110
« on: December 01, 2008, 07:07:11 PM »
Here's one:


"When I was a little kid, my mother told me not to stare into the sun, so when I was six I did... "
111
« on: November 24, 2008, 03:51:03 AM »
Here's Gonzo. He's a pug.
112
« on: September 28, 2008, 09:41:50 AM »
Smoking will generally lead to earlier death than not smoking, so I'd say that it's not good for you.

Yeah, because life is a competition in which the goal is to live as long as possible. What's the prize for the winner?
113
« on: September 15, 2008, 05:55:32 AM »
"Scandinavian" is not a nationality. You've got Norwegians, Swedes, Danes and Finns, and we all hate each others guts.
114
« on: May 23, 2008, 04:04:15 PM »
Good, because Wal-Mart is a corporation, which should be opposed by libertarians of all varieties. Join your girlfriend's parents in their protest against evil.

Yeah, and go right ahead and protest against me as well. I pay income tax for all of my three jobs. I'm evil.
115
« on: May 22, 2008, 12:17:28 PM »
Positive thinking doesn't change or create reality, (only taking the necessary action to attain your goals does).



Science disagrees with you

Also there are plenty of studies showing a link between people who are depressed being ill more or dying from disease more often.

Now what you think doesn't effect external reality, but it can alter your behavior in subtle ways that can make people react better to you and alter your physiology for better or worse. You don't think stress has any relationship to physical health?

I can't be bothered actually digging up some studies that back up what im saying but I'm sure some more motivated/better informed person can do it for me.

I'm highly motivated, and this motivation has by pure magic alone materialised a
German study
that shows the placebo effect in all it's glory. The study was done on 1.200 people with back problems. One group was treated with conventional medicine and physical exercise, one group with "real" acupuncture, and one group with "fake" acupuncture. Both the "real" and "fake" acupuncture proved more effective than the real medical treatment.
116
« on: May 22, 2008, 02:37:24 AM »
This is frankly the most retarded bunch of bullshit I've ever heard on FTL. It seriously bothers me. Ian's credulity just destroys his credibility from the standpoint of rational discourse and logical argument, his enthusiasm for this superstitious bunch of hooey called "The Secret" seriously turns me off. Positive thinking doesn't change or create reality, (only taking the necessary action to attain your goals does). If it did, Cheney would be right when he says "we create our own reality!" Mark seems to be getting more reasonable and consistent, adopting more and more radically anti-state and anti-violence positions (though he doesn't get science much at all). But this "Law of Attraction" stuff is a significant regression for Ian from where I sit. Blue feathers? Horse feathers!

Don't worry, Ian isn't as lost as one might think. He has simply misunderstood the concept and thinks it refers to psychology and cause and effect, and not pure magic.

</div>